Pioneering long-lasting structures
We have more than 30 years' experience in strengthening the long-term performance of concrete structures in aggressive environments.
With our unique Formtex® solution, we help owners and contractors improve concrete durability to extend the lifetime of structures and reduce total costs.
Some of the world's most spectacular bridges, harbours and other constructions have been made by utilising Formtex® to extend their durability.
As market leaders and pioneers, we not only set the standard in long-lasting product quality but also in what you can expect from a dedicated partner. Professionals profit from our reliable, end-to-end support and close cooperation in how to make it easier and faster to apply Formtex® as an essential part of the structure. All to help meet the needs of today - and tomorrow.
You can rely on us. Just like many significant structures around the world do.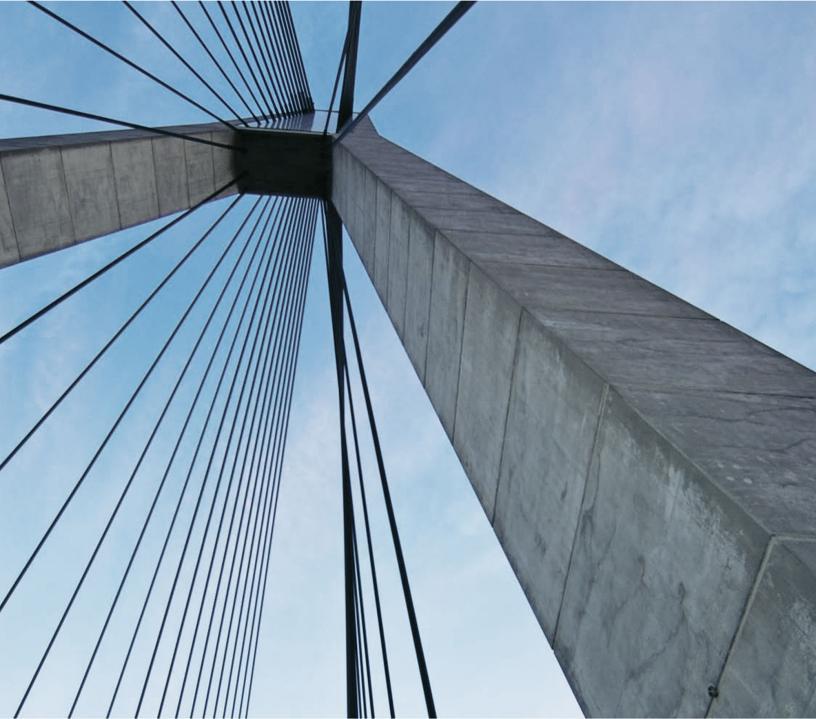 VALUE PROPOSITIONS
How we add value to your business
We are committed to strengthening the long-term performance of concrete structures in aggressive environments, through premium quality materials.
With us, you have a partner for life. The Fibertex team provides technical support throughout a project, to meet the needs of today – and tomorrow.
For your peace of mind, all our products are certified by leading quality, environmental and safety authorities.
THE PRODUCT IN USE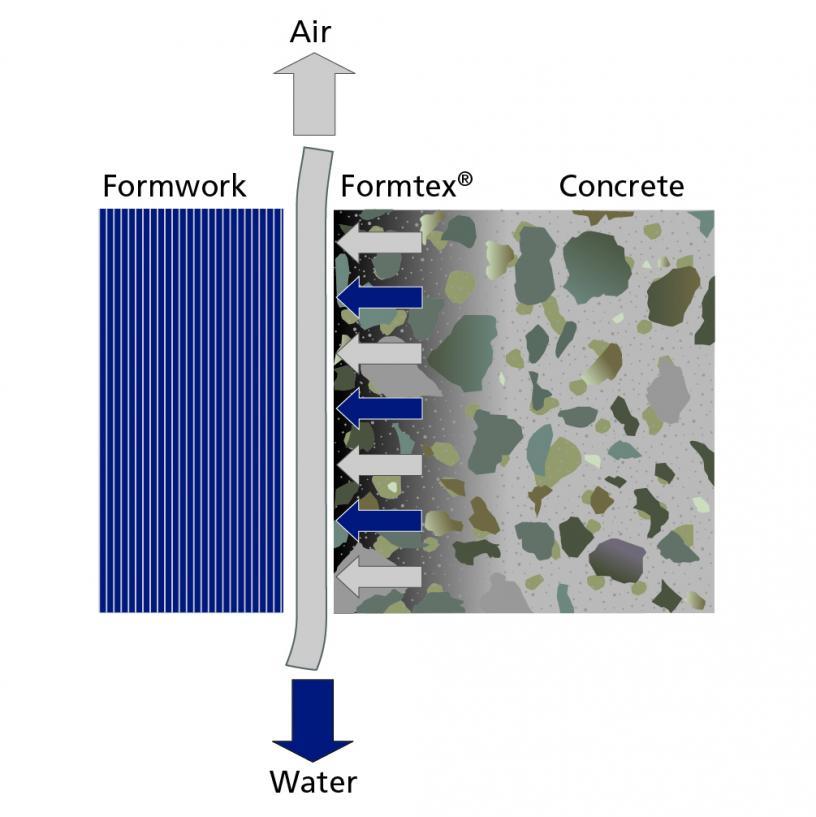 What is Formtex?
Formtex® is a two-sided Controlled Permeability Formwork (CPF) liner, with a permeable side that allows water and air to pass through and a filter side, with a pore size designed to retain cement particles.
The main function of Formtex® CPF liners is to drain surplus water and air from the surface of freshly placed concrete during compaction. When water is drained, the water/cement (w/c) ratio in the concrete cover is reduced, which considerably improves the strength and durability of the concrete.
Concrete durability
Concrete durability - which is critical to long-term performance of the structure - is one of the most important considerations in the complex design of new bridges, harbours and constructions.
Although all concrete in aggressive environments is likely to deteriorate to some extent, good durability retards the rate of deterioration. Fibertex has a thorough understanding of concrete durability, which is fundamental to cost effectiveness.
Below are Fibertex flyers that give an overview of the mechanisms that are most likely to cause concrete deterioration.
Flyers
Concrete durability flyers
Reinforcement corrosion in concrete
Chloride transport in concrete
Technical documentation
Technical documentation, including certificates, reports, data sheets and installation guides, are available for you to download.
Download documentation
Product
Formtex®
Long lifetime of concrete structures with Formtex®
Formtex® drains surplus water and air, providing for a denser concrete cover layer without blowholes. The result is increased resistance to degradation from penetration of chloride, water, carbon dioxide and frost/thaw.
Learn more
Find Contact Person
Find your local contact person for questions regarding concrete applications by choosing your region or country.