Fibertex Nonwovens Technology
Drylaid nonwovens
Unique combination of in-house technologies based on the latest within needlepunch and spunlace technology results in high performance products matching your needs.

Cutting edge technological competence in all our manufacturing sites results in high performance products available throughout the Fibertex group.

Carding, aero dynamic carding, IR and air through bonding, fibre spinning, polymer extrusion, lamination and various surface treatments are all part of Fibertex's technology portfolio. Finishing technologies include impregnation, coating and thermofixation.
Fibertex has expertise in
Fibre extrusion
Needlepunching
Thermal bonding
Aerodynamic web forming
Spunlacing
Nanofibre-based products
Combining technologies
Impregnation
Coating
Lamination and powdering
Printing
Fibertex technologies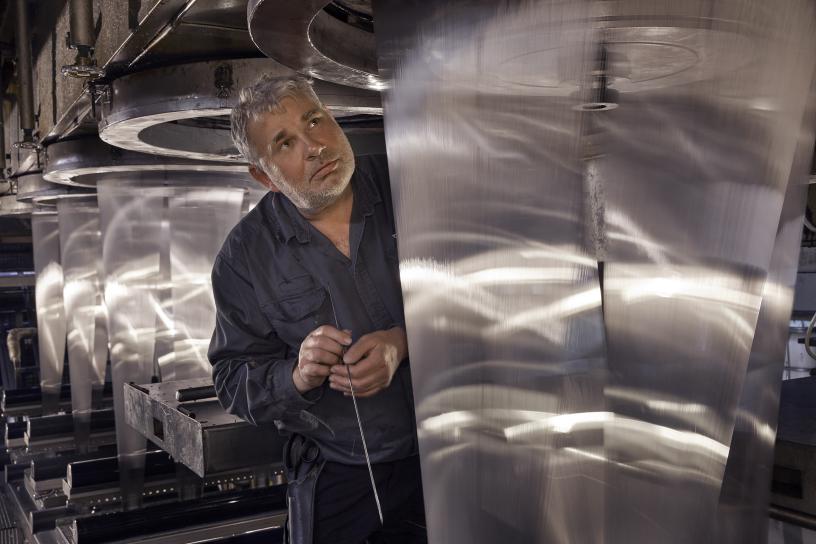 Fibre extrusion
PP staple fibres are produced for own consumption using short spinning technology. Fibres can be produced in various colours in dtex range from 1-10 dtex.

Special polymer grades are used for fibre spinning to tailor make the final end properties of our nonwovens.
Needlepunch production technology
This dry-laid technology is based on a two-step process. First, polypropylene resin is extruded into fibres. Secondly, these fibres are carded and needlepunched and then bonded thermally to form nonwovens.

Weights range from 50 to 1200 gsm.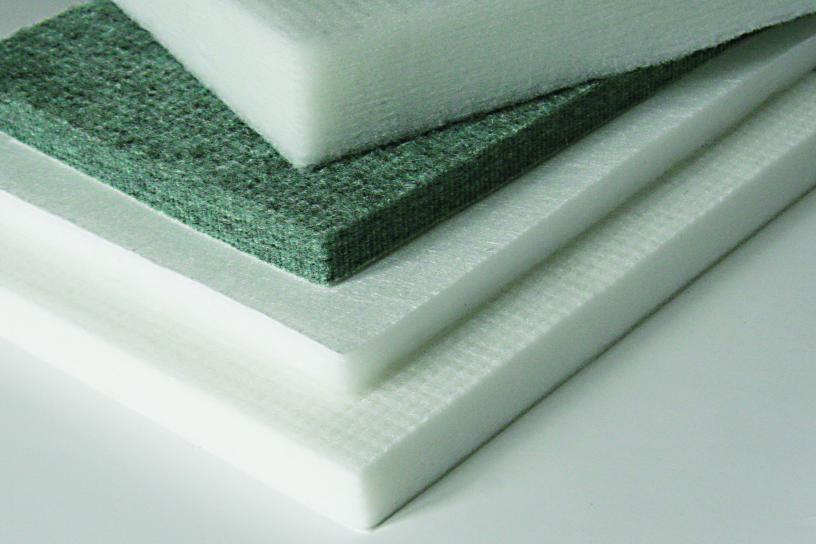 Thermal bonding
Production technology based on carding and thermobonding of fibres. Bicomponent or low melt fibres are used to bind the fibre web.

Products are mainly made for the furniture, bedding, filtration and automotive industries.

Weights range from 50 to 1500 gsm.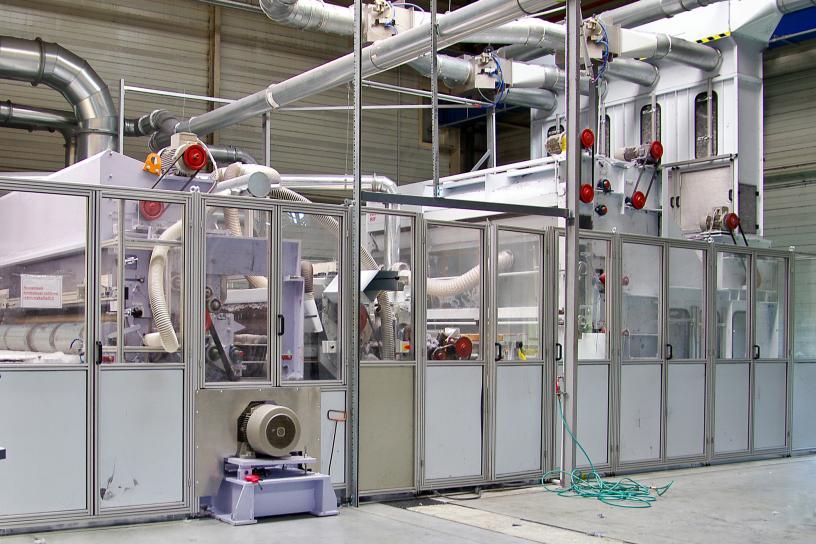 Aerodynamic web forming
For the production of nonwovens in weight ranges above 150 gsm our aerodynamic carding technology provides the possibility of using new and especially regenerated materials for the production of needled nonwovens.

Hence products with excellent value for money can be produced while ensuring environmental aspects.
Spunlace
The spunlace process uses high-speed jets of water to entangle fibres with each other.

The process makes it possible to produce materials with better uniformity at high speeds and low product weights.

The nonwoven fabrics made by this method have specific properties such as soft handle and drapability and are available as plain material, with embossed pattern or aperture construction. For special purpose we can supply material with isotrophic characteristics.

Typical end uses are wipes for industrial cleaning and technical fabrics for lamination.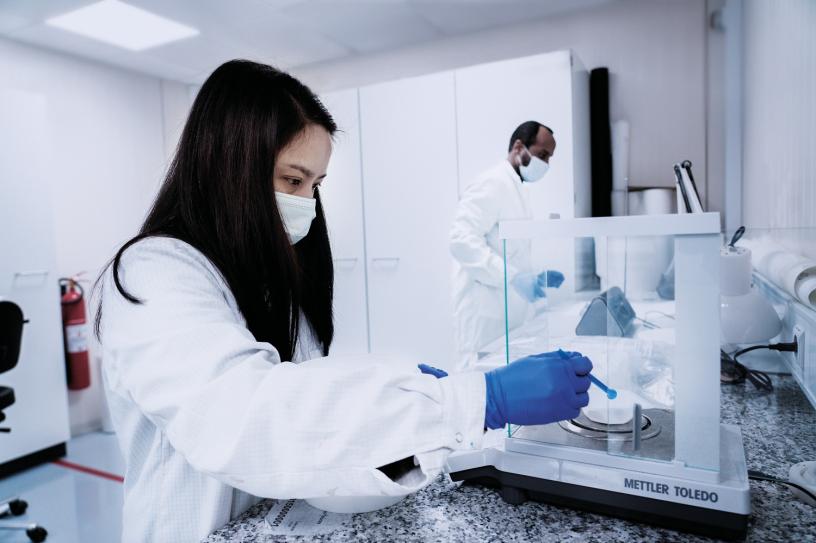 Nanotechnology
Fibertex has conducted extensive research into nanotechnology, in the form of nanofibre production and plasma treatment on a molecular level, to create high-performance materials for different applications.
Filtration and barrier materials are enhanced by nanofibres, with high collection and barrier impact efficiency. These materials also provide low resistance against air or liquid flows.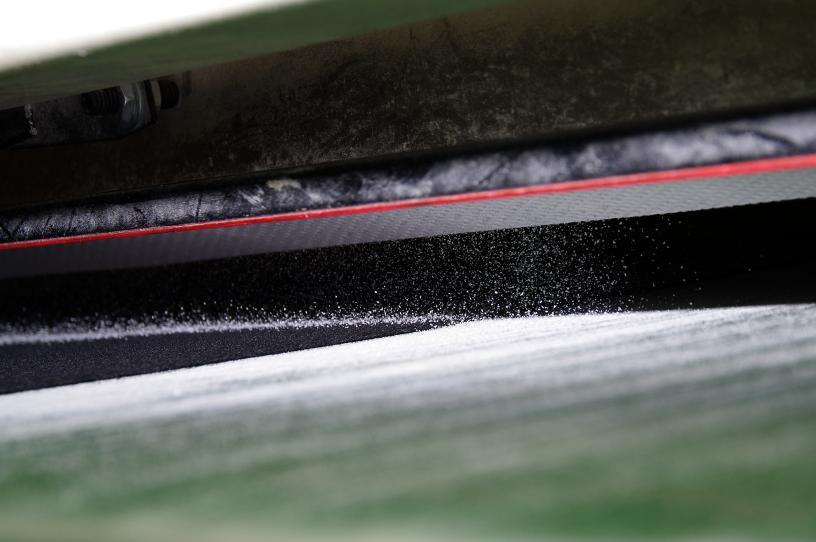 Treatments
Thermal processes are performed by melting material surfaces using high temperature and pressure.
Chemical processes are performed using impregnation in full bath or application on surfaces with fluid or foamed materials. Processes are performed both in-line and off-line.
Coating - Converting - Embossing
Impregnation - Lamination - Printing
Innovation and R&D
Fibertex Nonwovens has a long history of developing products with, and on behalf of, our customers and cultivating enduring relationships with them.
We focus on the development of new products and applications, and our team of R&D experts serve customers worldwide.
We strive to develop products that add value to our customers, and to introduce new technology that improves product performance and efficiency. Much of the development takes place in close cooperation with our customers and their specialists.
Your preferred business partner
International team of nonwoven experts
Technological leadership and innovation
Fibertex supply chain - superior level of technical support and customer service from initial contact to delivery and after-sales service
Long-term commitment in development, sales and supporting partnerships
Challenge us!
CONTACT

Lancelot Austin Woolley
Business Development, Strategic projects & Group R&D Director
Fibertex Denmark