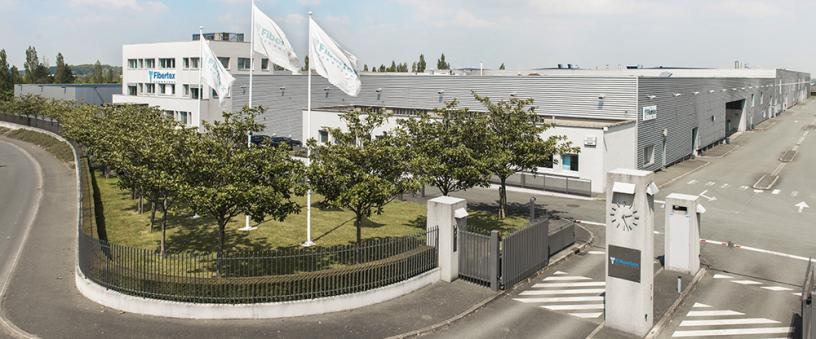 Established in 1930 and acquired by Fibertex in 2011
Main production technologies: needlepunch and spunlace
Located in Chemillé
Sales office in Chemillé and Crelmont-Ferrand
Key business areas: automotive, wipes, footwear, coating fabrics, home, construction, public works and building industries
Certified according to ISO 9001 and ISO 14001
Fibertex France, Chemillé

Contact details

Fibertex Nonwovens S.A.S.
3-5 rue de la Croix Renaudeau
BP 49
Chemillé
49120 Chemillé-en-Anjou
France

Tél. + 33 241715555
Fax + 33 241715578
saleschemille@fibertex.com
About Fibertex France, Chemillé

In 2011, Fibertex Nonwovens A/S. acquired Tharreau Industries – an 80 year old company, with its headquarters and production facilities in Chemillé, western France. Fibertex Nonwovens S.A.S. manufactures nonwovens, based on needlepunch and spunlace technology.
Fibertex France, Clermont-Ferrand

Contact details
About Fibertex France, Clermont-Ferrand
Fibertex France, SARL, was established in 1996, as a sales subsidiary, wholly-owned by Fibertex Nonwovens A/S. Fibertex France was located in the north western part of Paris, moved to Clermont-Ferrand as from 1 July 2022 and supplies Fibertex Geotextiles in France and other French speaking territories (DOM-TOM), North Africa (Morocco), South America and Guinea. The product range includes geotextiles and geosynthetic products, as well as products for furniture and bedding industries.
Fibertex France construction sales team

Sales Managers
Find Contact Person
Find the contact of our Fibertex construction sales team in your country - if other than France.
Working with Fibertex Nonwovens
Careers
Our employees are our most important asset. It is through our employees' skills and dedication that we create the basis for the company's continued development.
Learn more