Air Filtration
Fibertex has developed advanced pleatable products for air filtration, based on in-house produced nanofiber layers, which are combined with tailored nonwovens, to support the benefits provided by nanofiber materials.
The Fibertex Pleatex® filter media product range – which can be pleated on all types of pleating machines – offers the highest efficiency and lowest pressure drop on the market, through pure mechanical filtration. Pleatex® media do not lose their efficiency due to electrical discharge in the presence of moisture and air pollutants, like electret meltblowns. Additionally, these products do not contain any harmful, small fibre shreds, as is the case with conventional fine glass fibre-based filtration products.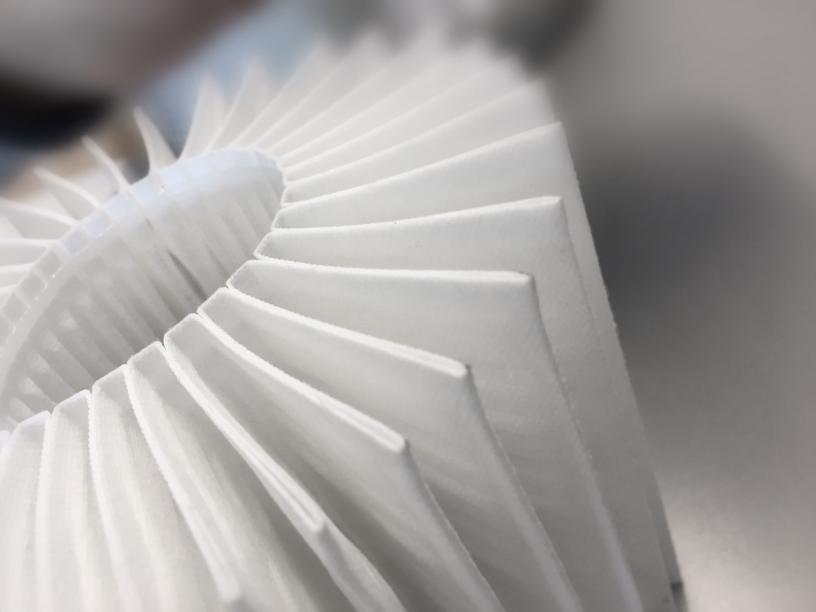 All products in this range conform with new ISO 16890 requirements and also adhere to the lowest energy consumption standards in ventilation systems.
Pleatex® filter media containing nanofibers can achieve filtration efficiencies up to HEPA 13 level according to EN 1822 and ISO 35H according to ISO 29463.
In addition to Pleatex® filter media, Fibertex manufactures a wide range of needlepunch, carded, thermally bonded and spunlace air filtration products.
All Fibertex filtration products can be treated with permanent plasma coating or non-permanent impregnations, to enhance hydrophobicity, oleophobicity or hydrophilicity. Anti-static treatment is also available.
Surface filtration products have been developed for many applications, including:
Dust collection and air pollution control media for cartridges and bags
Engine air intake media - heavy duty vehicles
Gas turbine inlet air media
Dust collection appliances, like industrial vacuum cleaners media
Depth filtration products, both pleatable and flat media types, are suitable for the following applications:
Heating, ventilation and air conditioning (HVAC) media
Protective face mask and respirator media
Cabin air media
Engine air intake media – passenger vehicles
Appliances media
HEPA
Air filtration applications
ACTIVATED CARBON MEDIA
High-quality nonwovens, with impregnated activated carbon, are designed to absorb odours, smoke and liquids.
Sorption filter media can be combined with standard filtration media or with a nanofiber layer, to ensure highly-efficient mechanical filtration.
The activated carbon of this durable material is well impregnated to ensure clean handling and further processing of the media into filters.
These filtration media also offer extended service life.
Applications include:
HVAC
Air purifiers
Cabin air
Cooker hoods and fryers
Vacuum cleaners and other appliances
Chemical protection suits
Face masks and respirators
Packaging materials
Contact
Find Contact Person
Find your relevant contact person within the filtration business area.