Avoids anthills on the patio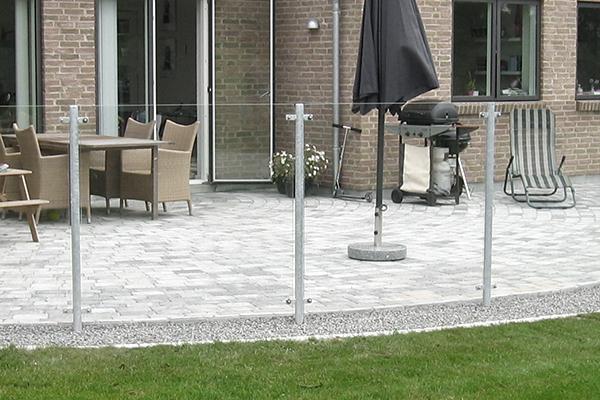 For terraces, patios and walkways
Deters ants from removing sand from beneath the pavement which over time makes your paving wobbling
Secures and stabilises a long-term beautiful terrace
Can also be used for perimeter drains, fascines and stone drains
If you do not want ants to invade your patio, place Fibertex Patio® underneath your pavement. You will then enjoy a beautiful and even patio for many years.
Fibertex Patio® is designed to be used for lightly loaded areas such as patios and walkways.
High quality product based on virgin raw materials granting a life time of more than 100 years.
Patio® product range
| Product | Dimension | Roll | Basic weight |
| --- | --- | --- | --- |
| Fibertex Patio® | 1 m x 20 m | 20 m2 | 80 gsm |
| Fibertex Patio® | 1 m x 25 m | 25 m2 | 80 gsm |
| Fibertex Patio® | 2 m x 25 m | 50 m2 | 80 gsm |
Installation


Patio and walkway stabiliser
1
Remove about 20 cm soil and unroll the first layer of fabric overlapping the edges. Overlap lanes with 20 cm.
Place a layer of about 10-15 cm graded aggregate.
Hose the graded aggregate layer gently. Compact several times with e.g. a plate vibrator.
2
Place 3-5 cm moist levelling layer of sand on top of this. Place levelling rails in the sand.

Use a sliding bracket (a board or similar) to level out the surface.
3
Unroll the second layer of fabric and make sure it is flush with the edge. Overlap lanes with 20 cm.
Place the slabs 10-15 cm from the edge of the fabric.

To prevent slaps from sliding, establish support along edges by laying edge slaps in a thin concrete layer. Edge restraints can be used as an alternative.

Sweep dry, fine sand between the slabs and vibrate the slab paving gently.
Contact
Find Contact Person
Find a relevant contact person from the home and garden business area by choosing your region or country.