Avoids anthills on the patio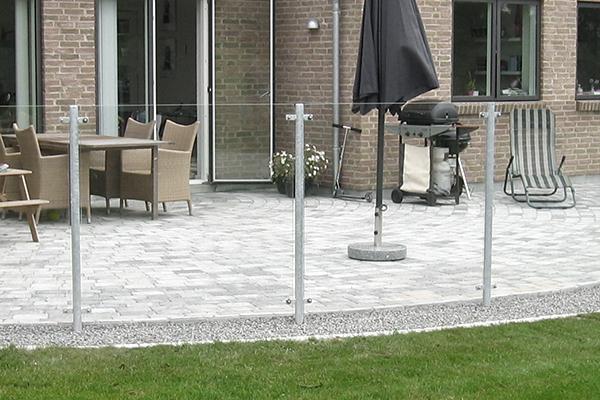 For terraces, patios and walkways
Deters ants from removing sand from beneath the pavement which over time makes your paving wobbling
Secures and stabilises a long-term beautiful terrace
Can also be used for perimeter drains, fascines and stone drains
If you do not want ants to invade your patio, place Fibertex Patio underneath your pavement. You will then enjoy a beautiful and even patio for many years.
Fibertex Patio is designed to be used for lightly loaded areas such as patios and walkways.
High quality product based on virgin raw materials granting a life time of more than 100 years.
Patio® product range
| Product | Dimension | Roll | Basic weight |
| --- | --- | --- | --- |
| Fibertex Patio® | 1 m x 20 m | 20 m2 | 80 gsm |
| Fibertex Patio® | 1 m x 25 m | 25 m2 | 80 gsm |
| Fibertex Patio® | 2 m x 25 m | 50 m2 | 80 gsm |
Installation


Patio and walkway stabiliser
1
Remove about 20 cm soil and unroll the first layer of fabric overlapping the edges. Overlap lanes with 20 cm.
Place a layer of about 10-15 cm graded aggregate.
Hose the graded aggregate layer gently. Compact several times with e.g. a plate vibrator.
2
Place levelling rails (for instance ¾" water pipe) in the graded aggregate layer.
Place 1-2 cm moist levelling layer of sand on top of this.
Use a sliding bracket (a board or similar) to level out.
3
Unroll the second layer of fabric and make sure it is flush with the edge. Overlap lanes with 20 cm.
Place the slabs 10-15 cm from the edge of the fabric.
To prevent the slabs from sliding, fill up with soil along the edges of the slabs. (Side support is important).
Sweep dry, fine sand between the slabs and vibrate the slab paving gently.
Contact
Find Contact Person
Find a relevant contact person from the home and garden business area by choosing your region or country.