Fibertex geobags have been used around the world for over 30 years, in the construction of protection structures, to guard against coastal flooding and for erosion control.
Geobags are a lightweight, durable and workable geosynthetic alternative to traditional revetment systems. Our geobags, which are carefully designed to enhance the aesthetic value of beaches and provide a natural habitat for marine growth, offer a cost-effective alternative to rock or concrete armour.
Fibertex geobags are manufactured from UV stabilised virgin Polypropylene (PP) fibres, to be able to withstand arduous coastal environments and the effects of harsh wave action.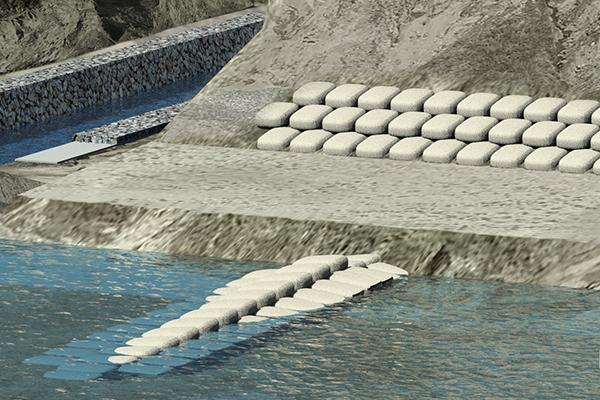 Geobags can be installed below ground-level, in water, where vegetation and coral thrive and are also effective above sea-level.
Our geobags are available in two colours - neutral white or natural sand. A thick outer layer protects against puncturing from boats, driftwood or vandalism.
Fibertex geobags provide an environmentally-friendly solution to beach rehabilitation and coastal protection.
GEOCONTAINER T
Fibertex geocontainer T - manufactured from high-strength nonwoven geotextiles - are used for long-term protection against harsh waves and erosion in coastal areas – particularly as a result of storms.
Fibertex geocontainer T function as a dike, or as a part of the dike, also offering breakwater solutions near the coastline.
Contact
Find Contact Person
Find your local contact person for questions regarding specific applications by choosing your region or country.