Advantages of using Compoflex®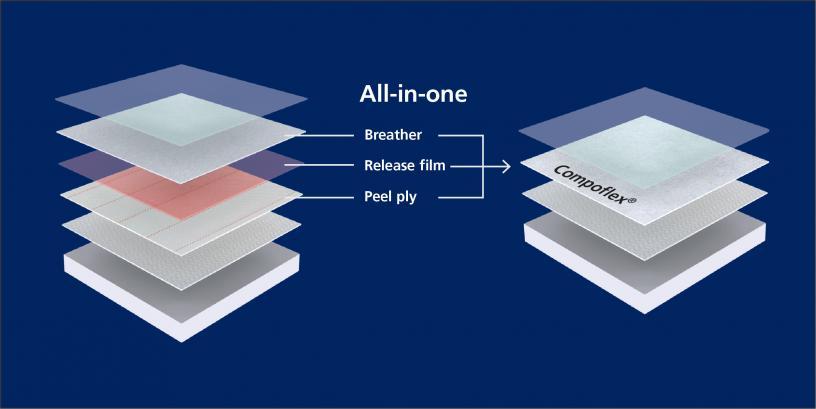 Superior peeling properties
Uniform bleeding
Easy release minimises resin dust
Time and cost savings
Secondary bonding surface
Standard Compoflex®

Compoflex® products are breathable micro-porous peeling materials, which replace up to three consumables – peel ply, release film and breather – with a single layer in composite manufacturing.
Compoflex® offers benefits which include:
Superior peeling properties
The micro-porous surface and the low surface tension of polypropylene (PP) nonwovens ensure that Compoflex® peels at one fifth of the force needed to peel conventional peel ply.

Uniform bleeding
The random micro-porous perforation style enables uniform bleeding, ensuring stronger and lighter laminates. Overlapping is possible, without compromising laminate quality.

Time and cost savings
In vacuum bagging, Compoflex® can replace three consumables – peel ply, release film and breather. Fewer consumables, combined with easy peeling, reduce costs and handling time, simplifying the process.

Easy peeling minimises resin dust
Compoflex® peels easily and hardened resin remains in the liner, reducing the amount of airborne resin dust. Conventional peel ply generates intensive resin dust activity, causing an unhealthy working environment.
Secondary Bonding Compoflex® SB

Compoflex® SB, with secondary bonding properties, is designed to produce a surface ready for secondary bonding, while maintaining the superior peeling properties of standard Compoflex® products.
Compoflex® SB products, which are offered in two versions for pre-preg and hand lay-up, may reduce or eliminate the need for sanding or abrading. Best results are achieved with epoxy resin, but testing is always recommended prior to application. Compoflex® SB 250 replaces low capacity breather fabrics, while SB 400 replaces high capacity breather fabrics. Both of these products replace peel ply and release film, simplifying and streamlining production.
Contact
Find contact person
Find a relevant contact person within the composites business area.