FiberAcoustic® 450 Colours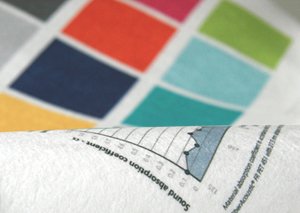 Product Features
FiberAcoustic® 450 can be supplied in any colour and offers the unique opportunity to be creative towards customer-specific designs, without compromising the acoustic performance.
Any colour which can be specified by NCS, RAL or Pantone® codes
The ink does not affect the product's fire properties
Customer-specific designs e.g. logos, pictures, slogans or patterns
Unique creative solution options
We encourage you to challenge us to provide state-of-the-art quality, performance and visual appearance
Relevant Acoustic Cases

College Hall, Denmark
FiberAcoustic® 450
For the college hall FiberAcoustic® 450 was designed and printed in many different colours. The expression on the wall is selections of different school tasks and SMS notes between the students.
Contact
Find Contact Person
Find your local contact person for questions regarding acoustics applications by choosing your region or country.